Before the twentieth century, a few Moroccan Jews came to America seeking economic opportunities. In fact, while waves of Moroccan Jewish immigrants from Tangiers, Tetouan, and Larache settled in Belem, Brazil by the end of the 1880s, seeking the fortunes of the rubber industry in the Amazon, North America did not attract Moroccan Jews during those times. Moses E. Levy was an exception. Levy purchased a large piece of land in North Central Florida with the hope of creating a homeland for persecuted Jews. He later established a plantation and recruited Jewish settlers in New York while traveling to London to raise money as he wrote an abolitionist treatise. His project never materialized. His plantation was destroyed during the Second Seminole War. His son David Levy Yulee would later become the United States' first Jewish senator.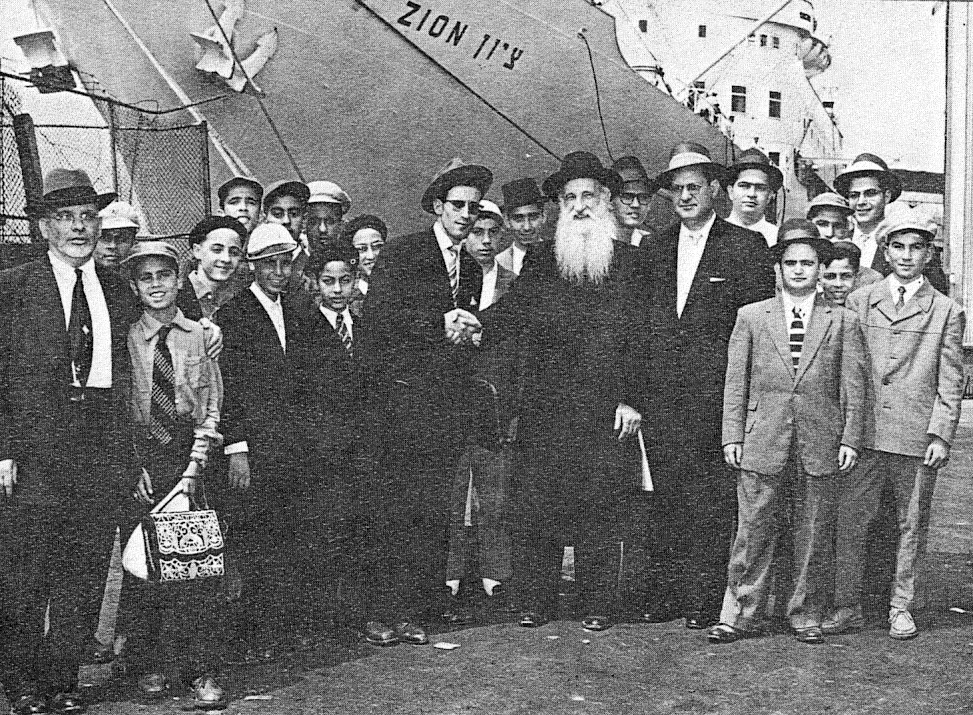 While Moroccan Jewish emigration accelerated in the early years of independence after World War II, most of those who left migrated to Israel, France, and Canada, and relatively few chose the United States as their immigration destination. In 1948, a group of young men and boys arrived in Brooklyn from Morocco to study in the Yeshiva of Mirrer of Rabbi Avraham Kalmanowitz. Another wave of students landed in New York in 1956 and became central to the revival of Moroccan Judaism at a time of growing secularism. This generation was able to resist Ashkenazi influence given the proximity of the Mirrer Yeshiva to the Brooklyn Sephardic Syrian, Egyptian, and Lebanese communities whose practices were close to Moroccan Jewish tradition.
By the 1970s, however, a significant population of Moroccan Jewish emigrants began to relocate from France, Canada, and Israel to the United States, most settling in Los Angeles. Of the approximately 30,000 and 40,000 native and descendants of Moroccan Jews in the United States, including those who have immigrated from Israel and identify as Moroccans, Los Angeles hosts around twenty percent of the community. The emigration histories of the Moroccan Jewish community in Los Angeles are historically diverse: the community includes individuals who served in the American military during and after World War II and others who came on individual basis in the 1960s, 1970s, and 1980s. While this community has received little academic and public attention over the years, its contributions to the preservation of a global Moroccan Jewish tradition and to the economy and social fabric of Los Angeles is significant.
Beginnings
The first Moroccan Jewish immigrants who settled in Los Angeles primarily comprised those who worked for the American army after the Allies landed in Casablanca, Fedala (Mohammedia) and Safi in the 1940s. Sidney Chriqui is one of these Moroccan Jewish trailblazers. As Chirqui describes in his personal biography, As Time Goes By: A Life Journey from Casablanca, after the American Landing in the port of Casablanca, he joined the United States army as an interpreter working with the legal department between 1942 and 1947. Sidney passed through New York in 1948 in transit to Los Angeles, where his sister Claudia and her Polish-born husband Albert Karmazyn settled. Following Hitler's rise, Karmazyn fled to Casablanca where he hid at the Sidneys' home until the American landing. During a personal interview, he noted how he was inspired to build an independent Moroccan Jewish center of worship in Los Angeles.
Moroccan Synagogues in Greater Los Angeles
In the early stages of settlement in the city, the Moroccan Jewish community was largely scattered in neighborhoods on the west side of Los Angeles and its members mostly attended services in the city's existing Sephardic synagogues such as the Sephardic Temple Tifereth Israel and the Sephardic Hebrew Center, despite the fact that these communities did not adhere to many Moroccan Jewish Orthodox rites of worship. But the increasing numbers of Moroccan Jews in the United States in general, and in Los Angeles in particular, led the community to build its own synagogues. They include:
• Em Habanim Sephardic Congregation (Rabbi Joshua Bittan)
• Baba Sale Congregation (Rabbi Moshe Pinto)
• Adat Yeshurun Valley Sephardic Congregation (Rabbi Amram Gabay)
• Shaarey Hahayim (Rabbi Aaron Azoulay)
• Bet Kneset Hachida (Rabbi Avshalom Azoulay)
• Ahavat Hashem (No current Rabbi)
• Magen Avot (Pico) (Rabbi Mordechai Lebhar)
• Pinto Torah Center (Rabbi Yaakov Pinto)
These synagogues are located primarily in the San Fernando Valley, reflecting a geographic shift in the Moroccan Jewish population from the city to the suburbs in the 1970s. Located between two major freeways (the 101 and the 170) and proximate to two major thoroughfares (Laurel Canyon Blvd and Burbank Blvd), Em Habanim, the first of these synagogues to be established in 1974 marked this shift. Others chose to build synagogues and smaller Moroccan Jewish houses of worship in the Pico-Robertson and Fairfax districts, where the majority of the Ashkenazi Orthodox congregations were located, each representing the center of a different Moroccan Jewish community.
According to personal interviews, Em Habanim's origins can be traced to the passing of a beloved community member, Rachel Sebbag Perez, in December 1973. Many Moroccan Jews came to pay their respect to the family during the Shiva week, conjuring strong feelings for many. Inspired by a shared desire to preserve their shared Moroccan and Sephardic heritage, Sidney Chriqui, Albert Bouhadana, Joseph Bouzaglou, Leon Perez, Arlette Marvin, Henry Elkouby, Edmond Levy, Sarita Bouhadana, and Marc Soussan organized the first meeting to begin the process if building a Moroccan Jewish house of worship in the San Fernando Valley. Joe Bouzaglou was elected to be the first president and Salomon Benchetrit became the first cantor. In the early stages, the community rented halls and other synagogues in the Valley to hold its services. At one such service held at the social hall of Adat Ari El in April 1974, the community celebrated its first Mimouna and collected $3,000 in fundraising to build Em Habanim ("mother of children") Synagogue. They soon purchased a hairdressing salon on Laurel Canyon Blvd to serve as its first house of worship. Ten years later, in January 1984, the community began to build its permanent sanctuary, which was completed and inaugurated in October 1984. The arrival of Rabbi Haim Louk increased the attendance and reputation of Em Habanim and in turn, the synagogue increased the visibility of the Moroccan Jewish community in Los Angeles.
While Em Habanim is home to the early and founding residents in Los Angeles, Baba Sale is the place where a new generation of immigrants from France, Canada, Morocco, and Israel continue to preserve their traditional Moroccan Jewish rituals. By 2019, there are over 25,000 Moroccan Jews living in Los Angeles including Israeli-born Moroccan. More than 1,000 Moroccan Jews attend Baba Sale during the High Jewish Holidays.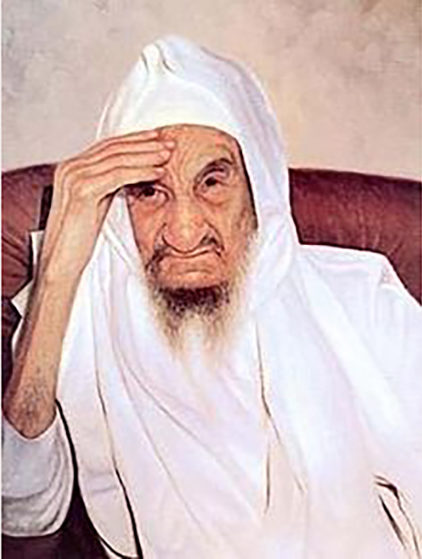 In the late 1990s, the number of Moroccan Jewish families living around Fairfax and Beverly Hills grew to about two hundred households and began to look for places to hold their prayers and rituals that would not require them to drive on Shabbat. For a while, they prayed in Magen David, a Syrian Sephardic Congregation on Melrose Avenue; however, the cultural and religious disparities led them to look for other sites. Later, they rented a place in a day-school before they were forced out for logistical reasons. They tried to merge with an Ashkenazi synagogue on Beverly Blvd whose membership had decreased, but the owners were reluctant because of the differences in Moroccan Jews' style of worship.
Finally, under the leadership of President Raphael Gabay and spiritual leader Rabbi Shlomo Harroch, the community initiated the process to buy a property and establish a synagogue of their own. Around the year 2000, a church building on Fairfax Avenue that had once been a bank came up for sale. The building's owner wanted to sell to a group that would qualify as a non-profit organization, and so the Moroccan community acquired the space to build Baba Sale Synagogue, which began its official operation in its new location in 2003. Some of the key founders and board members include families such as the Bohbot, Krief, Atias, Elgrichi, Perez, Benaim, Wanoun, and Gabay. Today Baba Sale is home to one of the thriving French and Moroccan Jews. Its current rabbi is Moshe Aharon Menachem Pinto Shlita whose great grandfather is Tzadik Rabbi Chaim Pinto of Essaouira.
Soon more Moroccan Jewish families began settling in the area surrounding Baba Sale, particularly in the Pico-Robertson neighborhood to take advantage of Kosher shops and restaurants there. Several Moroccan congregations have emerged in the area, the most recent which include Pinto Torah Center and the Jewish French Community Center on Beverly Drive.
Food
Food is a central part of a Moroccan Jewish life and celebrations in Los Angeles. It is served during henna celebration before weddings where Jewish families dress in traditional Moroccan kaftans (dress for women) and jalabiyas (robes for men). After sunset on the final day of Passover, families hold Mimouna parties where cookies, pastry, dried food, and Moroccan tea are served marking the renewal of spring. At the same Moroccan dishes are served in private homes during the Shabbat and other seasonal rituals and holidays, and there are also a few public restaurants and groceries that Moroccan Jews can visit to taste their cultural cuisine, many located near Em Habanim and the other Moroccan Jewish synagogues. For instance, Le Market, a specialized Moroccan grocery shop in North Hollywood highlights the continuous connections between Moroccan Jews and Moroccan food. Opened by David and Abraham Bitton in 1987 after their arrival from their native city of Marrakesh, Morocco, Le Market carries traditional Moroccan cuisine such as spicy Merguez sausage, beef filled Moroccan cigars, pastillas, roasted eggplants, stewed tomato matbucha, spicy carrots, and cumin-seasoned beets. Le Market is a place where a growing Jewish Moroccan community in Los Angeles meets and where you are likely to hear French and Moroccan Arabic more than English. In the Westside of Los Angeles, Michel Ohayon runs the Koutoubia Restaurant since in 1978 as a family business that serves a diversity of Moroccan dishes, food prepared by his own mother for years. Through these businesses, a Moroccan Jewish culture and society thrives in Los Angeles.
Melodies
Religious music and melodies have been at the center of the birth and revival of Moroccan Jewish communities in Los Angeles since the 1970s. As one member of the community described during a Shabbat dinner at his house, "the prayer melodies in Ashkenazi synagogues in Pico-Robertson (Jewish neighborhood) are foreign to my ears. I feel closer to the melodies in a mosque than to those of an Ashkenazi synagogue." His comments highlight the importance of lyrics and songs of praises of God (Bakkashot) that are similar to Muslim prayers which many Moroccan Jews used to hear in Morocco.
Born and raised in Morocco, Rabbi Haim Louk embodied for years this spirit of the performance and preservation of Moroccan Jewish tradition of singing Piyutim in Hebrew and Arabic in Los Angeles. Even though he lived in Israel and England for years, Louk became a key figure in Em Habanim Synagogue, where he performed traditional religious songs and music. At the same time Louk encouraged the community to expose the younger generation to liturgical melodies and Andalusian music. By the 1990s, Louk, who served as a Rabbi of Em Habanim for about fourteen years, became a symbol of Jewish-Muslim relations by singing for Jewish audience in Los Angeles and Moroccan fans in Fès and Essaouira in the years before he settled in Israel. Nowadays, Em Habanim is under the spiritual leadership of Rabbi Joshua Bittan, who is intent on preserving its typical Moroccan heritage in liturgy and customs. The synagogue boasts an active Sephardic Community Center with youth activities, a resource library of religious books authored by Moroccan Rabbis and a weekly meeting of cantors and amateurs from the community at large who gather with Hazzan Shimon Sibony to practice and sing the old tradition of Bakkashot.
The Moroccan Jewish community of Los Angeles is split in three ways—French, Israeli and, especially among the young, American. First, there are those who never moved to Israel but went to France and Montreal. They speak French in synagogues and when they pray, their Hebrew accent is more French. Second, there are those who came directly from Israel. They have altered some Sephardic-Moroccan melodies to the point that their prayer style has a name known as Yerushalmi. During the High Holidays, when local rabbis bring in singers from out of town to lead the prayer services, there is sometimes tension between each group over the Classic versus Yerushalmi style. Finally, the third group consists of the younger generation that speaks neither French or Hebrew in synagogues, but rather American English. They generally do not distinguish between Classic and Yerushalmi. The bigger question for this group is to what extent they will continue the rituals of the "Mellahs," and, for that matter, the very rituals of Moroccan Judaism.
Fashion
In the early 1980s, Moroccan Jewish entrepreneurs managed to build and establish brand names in women's fashion footwear, handbags and clothing. These families arrived from France, Canada, and Israel and have become some of the major family names in the fashion industry in Los Angeles today: Paul and Maurice Marciano, Jack Rimokh and Joe Ouaknine. The Marcianos moved from Marseilles, France to Los Angeles where they established GUESS? Jeans, one of the most recognizable global brands today. Georges and Maurice Marciano launched GUESS? In 1981 and were joined by their brothers Paul and Armand in 1982. In addition to their interests in fashion and viticulture, Paul and Maurice Marciano became avid art collectors, particularly of the works of painters Gerhard Richter, Roy Lichtenstein, and Sam Francis. In 2006, they established the Maurice and Paul Marciano Art Foundation and in July 2013, purchased the Scottish Rite Masonic Temple on Wilshire, which was inaugurated as the Foundation building in 2017.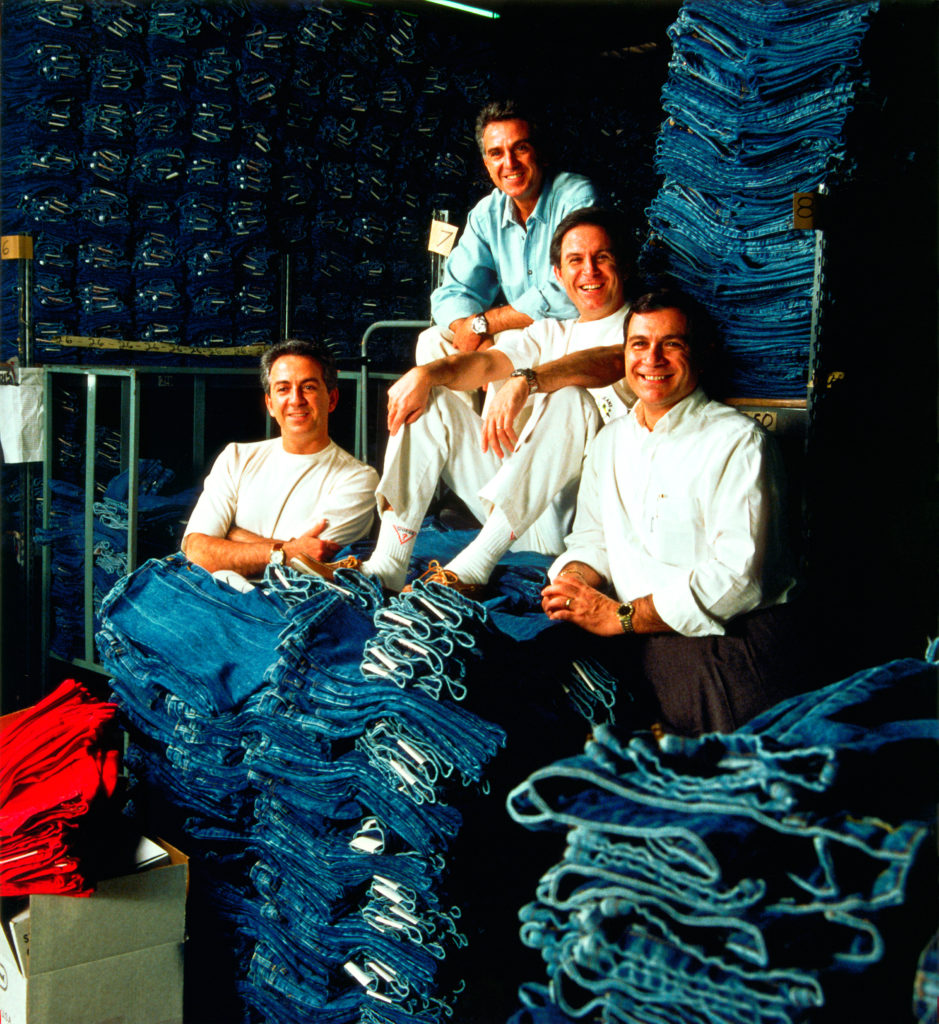 Joe Ouaknine arrived to Los Angeles from Canada in 1977 as a representative of Charles David shoes in the United States. After Charles David merged with GUESS? in the 1980s, Ouaknine became the first sales manager of the GUESS? footwear. In 1996, Ouaknine founded Titan Industries, one of the leading companies in women's fashion footwear which holds the licenses for Badgley Mischka, Jewel Badgley Mischka, Rampage, Wrapton, Zac Posen, and Splendid brand shoes. Jack Rimokh, one of the most successful Moroccan Jews in the fashion business, is the founder of Signal Brands, which specializes in handbags for women and men. Other Moroccan Jewish fashion designers include Richard Elgrichi (Carla Mancini handbags), Bob Oré Abitbol, Daniel Bohbot (Hale Bob), Michele Bohbot and Marc Bohbot (Bisou Bisou). These brands continue to survive despite the growing competition of global supply chains like Li & Fung.
*               *              *
Since the middle of the twentieth century, Jewish emigration from cities and villages of Morocco has continued and today the majority of Moroccan Jews are dispersed throughout the world. While the biggest number of Moroccan Jews continues to live in Israel, about 100,000 Moroccan Jews live in the Americas. These populations have not only thrived in their respective communities, but they managed to retain their own cultural and religious identities without losing their linguistic and religious complexities. They speak French, Spanish, Berber, Darija, and English. They eat couscous, matbucha, harira, and tajines during Shabbat. Their prayers are incomplete without traditional Moroccan maqams. Their homes were full of Moroccan cultural artifacts and memorabilia. Aware of the secular and Ashkenazi influence of Los Angeles, many Moroccan Jewish interviewees underlined their confidence in bringing up a new generation of Moroccan-American Jews in Los Angeles.
Citation MLA: Boum, Aomar. "'Little Jewish Morocco': A History of an Angeleno Settlement."  100 Years of Sephardic Los Angeles, edited by Sarah Abrevaya Stein and Caroline Luce,UCLA Leve Center for Jewish Studies, 2020, https://sephardiclosangeles.org/portfolios/little-jewish-morocco/.
Citation Chicago: Boum, Aomar. "'Little Jewish Morocco': A History of an Angeleno Settlement." In 100 Years of Sephardic Los Angeles, edited by Sarah Abrevaya Stein and Caroline Luce. Los Angeles: UCLA Leve Center for Jewish Studies, 2020. https://sephardiclosangeles.org/portfolios/little-jewish-morocco/.
About the Author:
Aomar Boum is an Associate Professor of Anthropology & Vice Chair of Undergraduate Studies at UCLA … More
Citations and Additional Resources
Boum, Aomar. "The 'Mellahs' of Los Angeles: A Moroccan Jewish Community in an American Urban Space." AJS Perspectives (Fall 2017): 42-43.
Boum, Aomar. "Circuits diasporiques: les communautés juives marocaines en Amérique Latine et en Amérique du Nord." In Marocains de l'extérieur, ed. Mohamed Berriane (Rabat: La Fondation Hassan II pour les Marocains resident à l'étranger, 2017), 251-271.
Bibas, David. "The Ethnicization of Immigrants: Moroccan Jews in the United States." Ph.D. Dissertation, University of California Los Angeles, 1984.
Chriqui, Sidney. As Time Goes By: A Life Journey From Casablanca (2014).
Thomas, Samuel R. "Redefining Diaspora Consciousness: Musical Practices of Moroccan Jews in Brooklyn." Ph.D. Dissertation, City University of New York, 2014.
Huhner, Leom. "Moses Elias Levy: An Early Florida Pioneer and the Father of Florida's First Senator." Florida Historical Quarterly 19, no. 4 (1941): 319–345.
Monaco, Chris. Moses Levy of Florida: Jewish Utopian and Antebellum Reformer (Baton Rouge: Louisiana State University Press, 2005).
If you have any more information about an item you've seen on this website or if you are the copyright owner and believe our website has not properly attributed your work to you or has used it without permission, we want to hear from you. Please email the Leve Center for Jewish Studies at cjs@humnet.ucla.edu with your contact information and a link to the relevant content.